2TB WD Black SN850X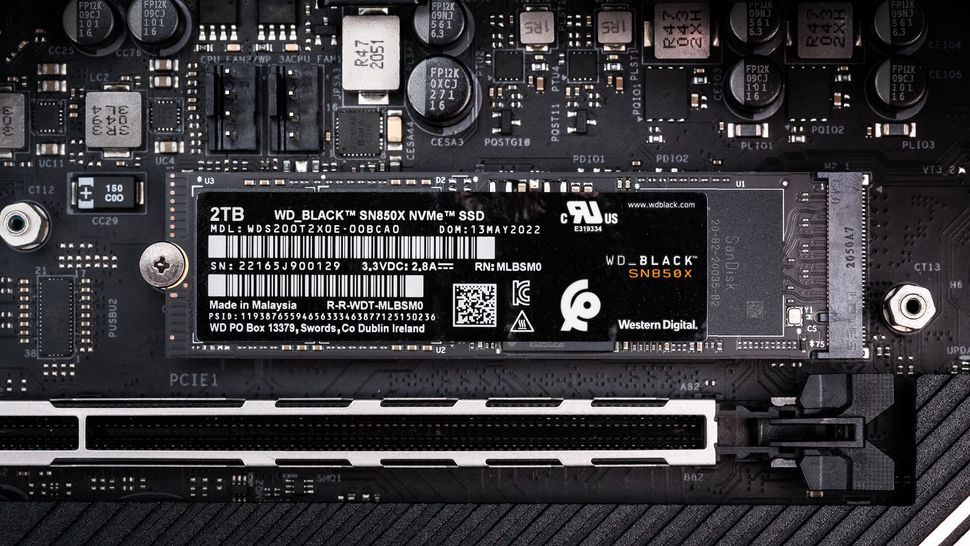 RATING: ★★★★ 1/2 (4.5 Stars)
PROS
+ Excellent performance
+ Optional heatsink/RGB and a good range of capacities
+ Software support with sufficient warranty
CONS
- Pricey
- Game Mode 2.0 is a bit gimmicky
OUR VERDICT
The 2TB WD Black SN850X is a powerful, high-end PCIe 4.0 SSD that's near the top of the heap in almost every category. The SN850X is available in high capacities and has an optional RGB-laden heatsink for most models, but pricing and the questionable Game Mode 2.0 keep it from being the very best.
Comparison Products
We tested the Black SN850X with its new Game Mode 2.0 on and off to see its impact on our benchmark results. The SN850 makes an appearance to demonstrate any iterative gen-on-gen advancements. We've also put the drive up against other popular high-end PCIe 4.0 drives at the same capacity. These include the proprietary Samsung 980 Pro, Crucial P5 Plus, and class-leading SK hynix Platinum P41. Other popular SSD controllers are represented by the Kingston KC3000, the Sabrent Rocket 4 Plus, and the HP FX900 Pro. These last three drives all use Micron's 176-layer TLC.
It's possible that the Game Mode 2.0 changes may impact results in future tests such as those for DirectStorage, but we are not testing such things today; it is still much too early. However, we will speculate where possible.

WD has claimed that game load times are improved with Game Mode and that the firmware mitigates the impact of read disturb during sustained read workloads. We also saw this with Phison's I/O+ firmware for DirectStorage workloads. This means consistency is prioritized over burst performance, but we are not yet testing for this. As such, synthetic results may show Game Mode 2.0 in a poor light that does not translate to its effectiveness with gaming specifically, particularly next-gen gaming.
Trace Testing - 3DMark Storage Benchmark
Built for gamers, 3DMark's Storage Benchmark focuses on real-world gaming performance. Each round in this benchmark stresses storage based on gaming activities including loading games, saving progress, installing game files, and recording gameplay video streams.
The SN850 already fared pretty well in this test, but the SN850X does even better. It can't quite catch the Platinum P41, though. The difference between turning Game Mode on or off falls within the margin of error.
WD says the SN850X shows improvements with Game Mode in the Final Fantasy XIV game loading benchmark, but we don't use that benchmark in our test suite. WD also tells us the Game Mode feature is still under development, so we could see this improve with future firmware updates.
Trace Testing – PCMark 10 Storage Benchmark
PCMark 10 is a trace-based benchmark that uses a wide-ranging set of real-world traces from popular applications and everyday tasks to measure the performance of storage devices.
The original SN850 also did well in PCMark, a testament to WD's optimization. The SN850X does even better and remains on the Platinum P41's heels. Game Mode seems to hurt here, if anything. This indicates it's probably best to leave it on Auto so it doesn't impact everyday performance.
Transfer Rates – DiskBench
We use the DiskBench storage benchmarking tool to test file transfer performance with a custom 50GB dataset. We copy 31,227 files of various types, such as pictures, PDFs, and videos, to a new folder and then follow up with a reading test of a newly-written 6.5GB zip file.
Due to innate bandwidth limitations, there isn't much discernable difference between the top drives with read workloads. The 980 Pro and P5 Plus trail a bit, but the results are generally straightforward. More noticeable is that the Game Mode doesn't seem to help the SN850X, so the algorithm must be focused on latency rather than bandwidth.
Unsurprisingly, we also see no advantage with Game Mode during file copies. However, the faster sequential writes in pSLC mode allow the SN850X to overtake the SN850 easily. In fact, the SN850X only trails the Platinum P41. Faster flash and some optimization allows the drive to impress.
Synthetic Testing - ATTO / CrystalDiskMark
ATTO and CrystalDiskMark (CDM) are free and easy-to-use storage benchmarking tools that SSD vendors commonly use to assign performance specifications to their products. Both of these tools give us insight into how each device handles different file sizes.
The ATTO results demonstrate again that WD has focused on the SN850X's performance in write workloads. In fact, it's easily ahead of the SN850 and is among the best drives in our test pool. With read workloads, it can't quite catch the SSDs built on Phison's E18 controller — the Rocket 4 Plus and KC3000 — but it beats the rest, including the SN850 and Platinum P41. Game mode again has no noticeable impact here.
CrystalDiskMark sequential results look good on the SN850X, with it generally being in the range of the top performers. The improvement over the SN850 is significant. We also see gains at 4KB, although the SN850X is otherwise in the middle of the pack. This is also where we see some advantage in using the Game Mode, as it should improve latency to a small degree.
Sustained Write Performance and Cache Recovery
Official write specifications are only part of the performance picture. Most SSDs implement a write cache, which is a fast area of (usually) pseudo-SLC programmed flash that absorbs incoming data. Sustained write speeds can suffer tremendously once the workload spills outside of the cache and into the "native" TLC or QLC flash. We use Iometer to hammer the SSD with sequential writes for 15 minutes to measure both the size of the write cache and performance after the cache is saturated. We also monitor cache recovery via multiple idle rounds.
The SN850X sports a pSLC cache of almost 600GB. This matches the nCache 4.0 scheme on the SN850. This is not quite as large as what is maximally possible with TLC, but it's still more than ample. In addition, the SN850X's post-cache writing speed is significantly higher and more consistent than its predecessors. While it has no middle performance state, it can write about as much as the Platinum P41 and KC3000 over a prolonged period. There's very little not to like here.

As with the SN850, the SN850X has a quickly-recovered portion of static SLC which enabled it to jump from 1600 MBps back to 3000 MBps after a bit of idle time. This keeps it relatively responsive.
Power Consumption and Temperature
We use the Quarch HD Programmable Power Module to gain a deeper understanding of power characteristics. Idle power consumption is an important aspect to consider, especially if you're looking for a laptop upgrade as even the best Ultrabooks can have mediocre storage.
Some SSDs can consume watts of power at idle while better-suited ones sip just milliwatts. Average workload power consumption and max consumption are two other aspects of power consumption, but performance-per-watt is more important. A drive might consume more power during any given workload, but accomplishing a task faster allows the drive to drop into an idle state more quickly, ultimately saving energy.
We also monitor the drive's temperature via the S.M.A.R.T. data and an IR thermometer to see when (or if) thermal throttling kicks in and how it impacts performance. Remember that results will vary based on the workload and ambient air temperature.
The SN850X is surprisingly efficient due to its newer flash and ability to finish a copy more quickly with a faster write speed. It doesn't set any records, but it does well enough to beat most of the competition and its predecessor. Game Mode doesn't seem to make much difference, although there are certain scenarios where it might be more efficient. An example would be during sustained random reads.
Our SN850X, tested without a heatsink or extra airflow, idled at 48C. Writing the entire cache got the reported temperature into a throttling range between 78 and 85C. So we would certainly recommend a heatsink and/or additional airflow for sustained workloads.
Test Bench and Testing Notes
Swipe to scroll horizontally
| | |
| --- | --- |
| CPU | Intel Core i9-11900K |
| Motherboard | ASRock Z590 Taichi |
| Memory | 2x8GB Kingston HyperX Predator DDR4 5333 |
| Graphics | Intel UHD Graphics 750 |
| CPU Cooling | Alphacool Eissturm Hurricane Copper 45 3x140mm |
| Case | Streacom BC1 Open Benchtable |
| Power Supply | Corsair SF750 Platinum |
| OS Storage | WD_Black SN850 2TB |
| Operating System | Windows 10 Pro 64-bit 20H2 |
We use a Rocket Lake platform with most background applications such as indexing, windows updates, and anti-virus disabled in the OS to reduce run-to-run variability. Each SSD is prefilled to 50% capacity and tested as a secondary device. Unless noted, we use active cooling for all SSDs.
Conclusion
The SN850X builds upon the successes of its predecessor, with targeted optimizations that position the drive among the fastest PCIe 4.0 SSDs on the market.
The previous-gen SN850 impressed us when we reviewed it over a year ago. Western Digital took from its solid SN750 design, which was in turn based on the popular WD Black NVMe, and created a top-tier PCIe 4.0 SSD. However, a lot can change in a year and a half. Drives based on Phison's E18 and InnoGrit's IG5236 controllers were upgraded with Micron 176-layer flash, pushing for all-new heights. More recently, SK hynix released the stellar Platinum P41 with their own 176-layer flash. Unfortunately, WD felt left a little bit behind, especially as many drives were being tailor-made for the PlayStation 5.
Enter the SN850X. It takes everything that worked well with the SN850 and turns it up a notch. WD uses the same pSLC cache scheme, but now with better post-cache performance and consistency, and significantly improved performance in write workloads. It even does better where the SN850 held its own, such as in 3DMark and PCMark 10. You can now get the drive at 4TB, and even the heatsinked 1TB and 2TB variants have added RGB. To top it off, it even has a new Game Mode 2.0 feature that promises to improve gaming performance on PC.
With WD being late to the game, though, it's difficult to justify the relatively steep MSRP. No doubt "real" prices will be more agreeable, but it's impossible to deny that the market is running hot at the moment — NAND and SSD prices continue to be in freefall.

Additionally, we're not yet sold on the new Game Mode. WD tells us the feature is still in development and that it will improve over time. It's possible its impact will be more meaningful in real-world gaming, especially with DirectStorage-like workloads, but at the moment, it both subjectively and objectively adds little value. The best part is probably the adaptive thermal management which is becoming more important for faster and hotter drives, particularly ones without a heatsink.
At the end of the day, the SN850X is an excellent addition to WD's NVMe SSD lineup. WD managed to wring a lot of performance out of their hardware, but while it's not as good as the Platinum P41, it's not a bad consolation prize for the large number of people who can never find a SK hynix product in stock at a reasonable price.

The WD Black SN850X is good in a PS5 or a PC, the extra capacity is nice, and the optional heatsink is something the Platinum P41 could have offered. Still, this drive is a bit pricey, and we would like to see more environments where Game Mode 2.0 will actually make a difference. However, this is still a chicken-and-egg scenario as we wait for DirectStorage games to come to the PC, but the WD Black SN850X is a future-looking design that aims to capitalize on the capabilities of next-gen game engines.
MORE: Best SSDs
MORE: Best External SSDs and Hard Drives
MORE: How We Test HDDs And SSDs
MORE: All SSD Content