No matter how great your latest GPU or CPU upgrade is, your tech life won't change as much as you'd like if you're still staring at the same old screen. If you do any kind of PC gaming, getting a gaming monitor with a high refresh rate will change the way you play, eliminating tearing and ghosting. Upgrading to a larger screen or one with a higher resolution will let you have a more immersive experience or see more content at once. And, if you like your primary display(s), adding additional ones will improve your multitasking.
The good news is that there are plenty of great monitor deals to be had. Amazon and other retailers such as Newegg, Dell, and Best Buy are offering amazing savings on screens right now and we're tracking them to help you find the right one. Whether you're shopping for one of the best gaming monitors or just an inexpensive secondary or portable display, check out the highlighted monitor deals below.
Quick Links: Monitor Deals
Why you can trust Tom's Hardware Our expert reviewers spend hours testing and comparing products and services so you can choose the best for you. Find out more about how we test.
Specs to Look For: Monitor Deals
Size - 27 inches seems to be the typical entry-level size where 24 inches is small and 32-inches or higher should be considered large.
Refresh Rate - If you're a gamer, you'll prefer a high-refresh rate display that's at least 120 Hz and supports FreeSync and / or G-Sync technology. Unless you're an esports professional, you probably don't need more than 165 Hz.
Resolution - 4K is the top resolution most people can afford, but it can be expensive if you want both high resolution and high refresh rates. You can usually get a good price on 2K, high refresh monitors and even better savings on 1080p screens.
Best Monitor Deals
Hottest Monitor Deals Overall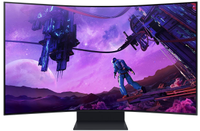 Samsung Odyssey Ark 55-inch 4K Curved Gaming Monitor: now $2,399 at Amazon (was $3,499)
This giant 55-inch curved gaming screen from Samsung has an impressive 4K resolution and a superfast 165Hz refresh rate with a rapid 1ms response time (GTG). The Quantum Mini-LED panel can also flip vertically for some interesting viewing applications and comes with a feature-rich remote control to help navigate the expansive OSD.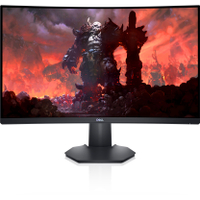 Dell S2722DGM: now $249 at Dell (was $299)
This affordable but powerful gaming monitor has a 27-inch panel with a 2K display and a 165 Hz refresh rate.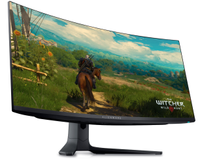 Alienware AW3423DWF 34-Inch QD-OLED Gaming Monitor: now $999 at Dell (was $1,099)
One of our favorite gaming monitors and 5-star Editor's Choice award winner, the Alienware AW3423DWF has $200 knocked off of its usual retail price. With a Quantum Dot OLED display and an immersive 1800R curve on this 34-inch OLED panel, this gaming monitor destroys the competition with its motion clarity and picture quality.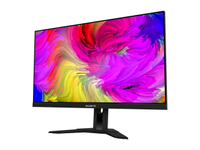 Gigabyte M28U 28-inch 4K: now $429 at Newegg (was $599)
This 28-inch, 4K 144 Hz screen has HDMI 2.1 support for the PlayStation 5 and Xbox Series X, as well as the latest GPUs. There's also a KVM switch, HDR support, and USB Type-C.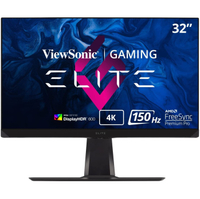 ViewSonic Elite XG320U 32-inch 4K: now $889 at Amazon (was $999)
Viewsonic's Elite XB320U is a 32-inch 4K gaming monitor with an expansive color gamut, high accuracy, and solid gaming performance. Capable of 150Hz. In our review, the 4k IPS panel excels in the 32-inch class and supports a 1ms response time.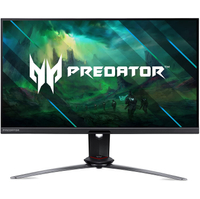 Acer Predator XB273K 27-inch 4K: now $549 at Amazon (was $599)
This 27-inch 4K 144Hz gaming monitor represents great value. The IPS panel has great out-of-box color accuracy and a 4ms (GTG) response time. The Predator XB273K delivers pro-level color accuracy and contrast, reaching over 4,000:1, according to our testing, and over 2,000:1 after our calibration.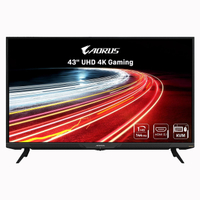 Aorus FV343U 43-inch 4K: now $699 at Amazon (was $1,099)
We loved this colorful and accurate big-screen monitor when we tested it for its class-leading contrast and excellent HDR. Just note that it has some limitations as a TV replacement.
Best Gaming Monitor Deals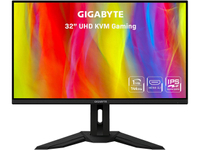 Gigabyte M32U: now $649 at Newegg (was $799)
This 32-inch, 4K 144Hz display boasts a 1 ms response time and HDMI 2.1 support, to make the most of the latest GPUs or next-gen consoles — alongside HDR 600, a KVM switch, and built-in speakers.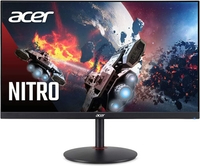 Acer Nitro XV272U Vbmiiprx: now $229 at Amazon (was $299)
The Acer Nitro XV272U Vbmiiprx is a 27-inch gaming monitor with minimal bezels around the top and sides and a WQHD (2560 x 1440) resolution. The monitor supports overclocked refresh rates up to 170Hz and comes with AMD FreeSync Premium support.
HP OMEN 27q: now $199 at Amazon (was $289)
This is a 27-inch gaming monitor with a WQHD (2560 x 1440) resolution and a 165Hz refresh rate. This is the 2023 version of the monitor, bringing with it 99% coverage of sRGB, 95% coverage of DCI-P3 and 400 nits of peak brightness.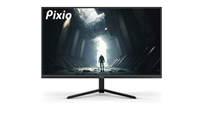 Pixio PX248 Prime 24-inch IPS FHD Monitor: now $119 at Amazon (was $149)
This monitor from Pixio features a 24-inch IPS panel with an FHD resolution, a high refresh rate of 144 Hz, and Freesync Premium certification.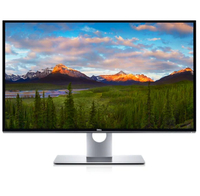 Dell UltraSharp UP3218K 32-inch 8K: now $4,029 at Dell (was $5,029)
With a 31.5-inch panel and an 8K resolution, Dell's UltraSharp UP3218K is the ultimate monitor for professionals and business users. The monitor is factory-calibrated with an accuracy of Delta-E of less than 2.
More Tech Deals