Why you can trust Tom's Hardware Our expert reviewers spend hours testing and comparing products and services so you can choose the best for you. Find out more about how we test.
To compare the C24G1A's performance, I've mined a group of budget monitors from my test database. They are Gigabyte's G27F2, AOC's C27G2Z, Dell's S2422HG, Viotek's GFI24CBA and Philips' 221V8LN. All are available for less than $200, with the Philips costing just $70.
Pixel Response and Input Lag
Click here to read up on our pixel response and input lag testing procedures.
Image 1 of 2
The C24G1A's millisecond to Hertz ratio is a bit unfavorable compared to the other screens. 8ms is still plenty fast, but you can get better performance from the 27-inch AOC and the Gigabyte. A 1ms difference can be seen in a side-by-side comparison. In test patterns, I saw a bit more blur from the C24G1A than is typical of 165 Hz monitors. The overdrive only helps a little here. It suffers from undershoot, which manifests as black trails behind moving objects. You can use the MBR backlight strobe for better motion resolution, but then you'll see a phasing artifact.
The C24G1A manages to make up much time in the total lag test. It is extremely responsive to control inputs. A gamer of average skill like me will find it easy to aim accurately in fast-paced shooters. Notice that it pips the 240 Hz C27G2Z by 1ms. That's a happy surprise.
Test Takeaway: Though input lag is low, the C24G1A's panel is a bit slower to draw a full frame than other 165 Hz screens. Coupled with a weak overdrive, it is a little less smooth than its primary competition.
Viewing Angles
Budget VA panels aren't known for great viewing angles, but the C24G1A is a happy exception. The sides have a slight green tint, but light only falls off by around 20%. This is almost in IPS territory. The top view is green and washed out but retains good light output. Though I don't expect many users to share a 24-inch monitor, the C24G1A is one of the few VA displays that can do it.
Screen Uniformity
To learn how we measure screen uniformity, click here.
The C24G1A has one of the lowest screen uniformity scores I've ever recorded. To be fair, this is sample specific. Other C24G1As may measure higher than this. But it's unlikely that you'll find any examples with visible bleed or glow. 10% is my personal benchmark. Any number below that means there are no visible issues anywhere on the screen. This is excellent performance.
MORE: Best Gaming Monitors
MORE: How We Test PC Monitors
MORE: How to Buy a PC Monitor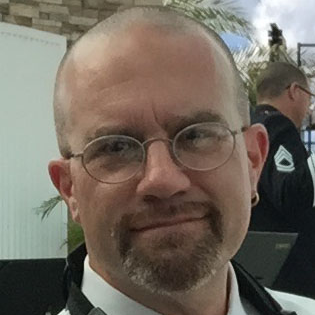 Christian Eberle is a Contributing Editor for Tom's Hardware US. He's a veteran reviewer of A/V equipment, specializing in monitors.