Nvidia has quietly started selling its RTX 6000 Ada Generation graphics card. Based on the AD102 GPU with 18,176 CUDA cores enabled, this is the 'fattest' AD102 configuration available to date — 142 of the 144 Streaming Multiprocessors are enabled. Rated for 300W of power consumption, the board is designed for computer aided design, digital content creation, virtual desktop infrastructure, and other professional applications.

Pricing varies pretty widely, ranging from $6,800 to $8,600 depending on the retailer. Nvidia has the card listed at $6,800, with a limit of five per customer — just in case you're trying to put together a bunch of workstations. Other outlets like CDW are marking it up an additional 25% or so, with availability set for 4–6 weeks out.

Nvidia's RTX 6000 Ada based on the AD102 GPU has 18,176 CUDA cores enabled, and while Nvidia doesn't specify clocks anywhere that we can find, it's partners like PNY and Leadtek quote to 91.1 FP32 TFLOPS of compute performance. That equates to a GPU boost clock of 2505 MHz and is about 10% higher than the GeForce RTX 4090, which features 16,384 CUDA cores. However, there are clear differences between the RTX 6000 Ada and the consumer-focused RTX 4090.

The RTX 6000 Ada is designed for professional applications, and so it carries 48GB of GDDR6 memory with ECC enabled, featuring a peak memory bandwidth of 960 MB/s — slightly lower than 1,008 MB/s offered by the GeForce RTX 4090. That suggests Nvidia is using 20 Gbps GDDR6 memory rather than the slightly faster 21 Gbps GDDR6X, but power use may also be slightly lower on the GDDR6 chips.
The RTX 6000 comes equipped with four DisplayPort 1.4a connectors that can drive four 4K or 5K displays (4K at 240 Hz is supported via DSC), or two 8K displays (120 Hz with DSC).

One of the intriguing things about the RTX 6000 Ada is its power consumption. Despite its higher compute performance and 48GB of memory onboard, the RTX 6000 Ada is rated for just 300W of power, down from the 450W rating on the gamer-oriented GeForce RTX 4090. Both GPUs have similar official boost clocks of around 2.5 GHz, though the minimum guaranteed clocks on the RTX 6000 are lower and we suspect it won't clock quite as high in heavy computational workloads.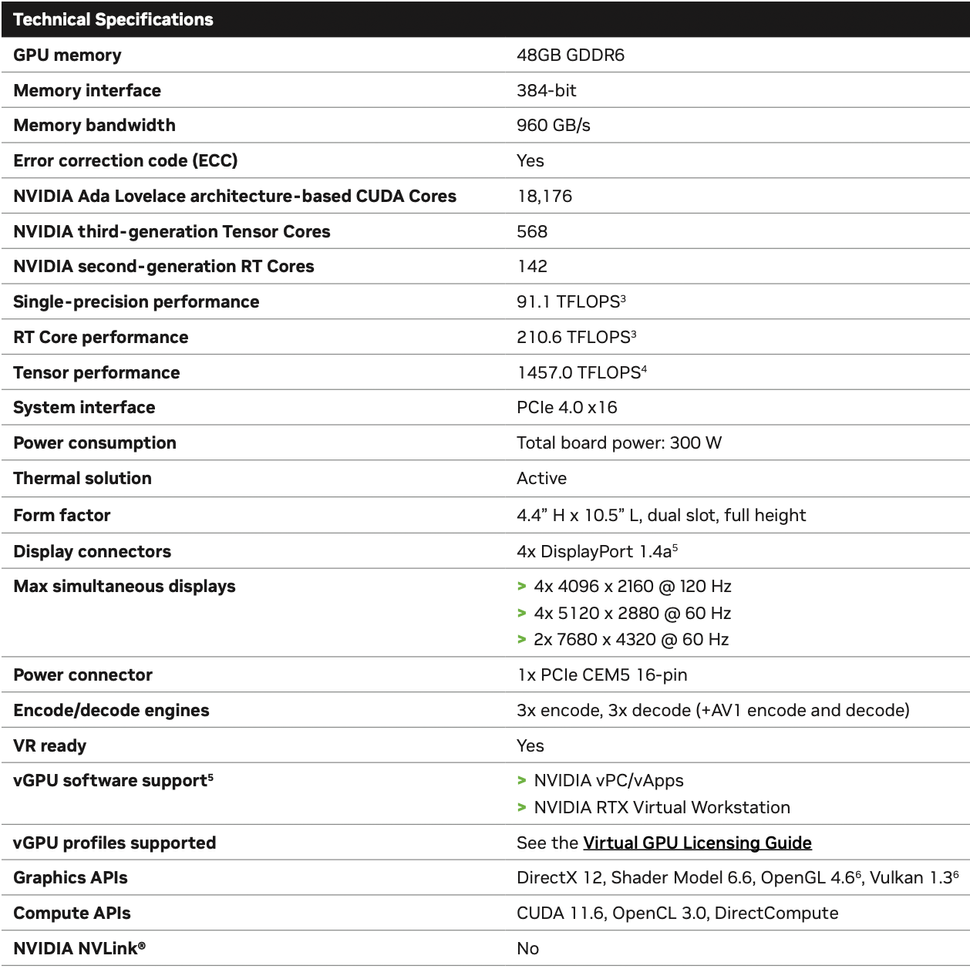 Because of its relatively limited power consumption, the RTX 6000 Ada Generation graphics card comes with a dual-wide cooling system and a blower fan to ensure that it fits into workstations and servers. It uses one 12VHPWR (16-pin CEM 5.0 PCIe) power connector for power delivery, so it will require an appropriate cable adapter to fit into existing machines that do not have a native 16-pin connector.

Another interesting thing about Nvidia's RTX 6000 Ada professional graphics card is its price. Nvidia sells the board for $6,800, slightly lower than the $6,999 launch price of its RTX A6000 predecessor. But value added reseller CDW lists the product for $8,615, while a Japanese retailer found by @momomo_us lists the unit for $8,524 without tax. We are not sure why resellers are charging so much more than Nvidia itself, but for now it looks like it makes the most sense to buy the RTX 6000 Ada board directly from the Nvidia.