Nvidia RTX 4090 Subject to China Export Restrictions Starting November 17
The fastest gaming GPU will no longer be sold in China.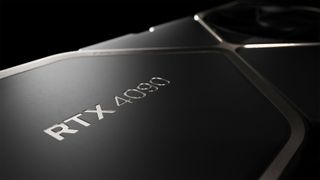 (Image credit: Nvidia)
The Nvidia GeForce RTX 4090, the fastest currently available consumer graphics card and one of the best graphics cards around, will no longer be available for export to China starting November 17, 2023. This is according to people familiar with the matter and our own understanding of the published SEC filings. There was some confusion over whether the consumer-focused RTX 4090 would actually be restricted or not (for example, it's missing from this later SEC filing), but we have confirmed this is happening in a couple of weeks.

The RTX 4090 appears to be a perhaps unintended casualty of the U.S. attempts to deny China (and certain other countries) access to advanced technologies. Such sanctions make more sense for data center parts like the H100, H800, A100, A800, L40, and L40S. However, given those last two utilize the same AD102 silicon found in the RTX 4090 (and RTX 6000 Ada Generation), it becomes necessary to apply the same restrictions to consumer parts.

Would China's government and companies actually be able to use RTX 4090 cards in large-scale AI, machine learning, and other installations that typically have tens of thousands of GPUs? That's not as clear, but where there's a will, perhaps there's a way. There are, of course, many parts previously shipped to China that would be available, but the intent is to limit further access to such hardware.

We've previously reported on increasing prices of the RTX 4090 in China, and that's having something of a knock-on effect in raising 4090 prices domestically. That seems a bit counter-intuitive. Shouldn't the export restrictions on the RTX 4090 make it more readily available in other regions? But there may be other routes to getting GPUs into China, and the potential to buy 4090 cards at $1,600 and sell them for more than double that in China will inevitably tempt a certain clientele.

Of course, restricting exports of RTX 4090 cards to China also means that manufacturing of RTX 4090 cards in China also gets blocked. Third-party AIB (add-in board) partners, including Asus, Gigabyte, MSI, PNY, and more, would have to potentially shift all assembly of RTX 4090 products to other regions, like Taiwan. There's a cost to doing the work elsewhere, and, conceivably, that would thus impact pricing.

Given the RTX 4090 certainly ranks at the top of our GPU benchmarks hierarchy, there are enough people who are willing to pay the extreme asking price of $1,600 or more just to have one. It also sounds like the rumored RTX 4090 Ti and/or Titan RTX refresh may not see the light of day, which means the 4090 can continue its reign as the fastest graphics card.

If you look at our GPU pricing index, you'll see that the least expensive RTX 4090 right now is the PNY 4090 for $1,669. Elsewhere, the cheapest RTX 4090 on Newegg is the Gigabyte 4090 at $1,799, while the lowest price on Amazon are the Zotac 4090 and MSI 4090, both at $1,699 — with the next closest cards sitting at nearly $2,000. Don't be shocked if RTX 4090 prices continue to rise; in other words — we've seen an upward trend (and an increase in scam listings) on eBay's historical GPU pricing as well.
Join the experts who read Tom's Hardware for the inside track on enthusiast PC tech news — and have for over 25 years. We'll send breaking news and in-depth reviews of CPUs, GPUs, AI, maker hardware and more straight to your inbox.
Jarred Walton is a senior editor at Tom's Hardware focusing on everything GPU. He has been working as a tech journalist since 2004, writing for AnandTech, Maximum PC, and PC Gamer. From the first S3 Virge '3D decelerators' to today's GPUs, Jarred keeps up with all the latest graphics trends and is the one to ask about game performance.