Why you can trust Tom's Hardware Our expert reviewers spend hours testing and comparing products and services so you can choose the best for you. Find out more about how we test.
The comparison group is almost all 32:9 monitors like the 45GR75DC. The lone 21:9 example is Corsair's Xeneon Flex, which is of similar resolution and speed. Also here are Samsung's OLED G9 and LC49G95T, Monoprice's 43305 and Viotek's SUW49DA.
Pixel Response and Input Lag
Click here to read up on our pixel response and input lag testing procedures.
Image 1 of 2
END PHOTO ALBUM
The 45GR75DC hums along at 200 Hz with a 5ms panel draw time. Along with a top-shelf overdrive, it maintains excellent motion resolution in fast-moving objects with no visible trail artifacts. I didn't miss the backlight strobe; it's simply unnecessary when frame rates stay above 150fps, and the overdrive is this good.
Input lag is about average for the category. The 240 Hz screens have a slight advantage, but the 45GR75DC is close behind with 27ms of total lag. This is quick enough for skilled gamers and casual players alike.
Test Takeaway: Overdrive makes a huge difference in motion quality and the 45GR75DC has an excellent one. Lag is low enough for gamers of all skill levels to have a positive experience. Aiming and movement are as precise as the best gaming monitors I've reviewed.
Viewing Angles
The 45GR75DC's VA panel has great contrast but off-axis image quality isn't as good as an IPS monitor. Sitting on center, the image is solid from edge to edge with no visible problems. But at 45 degrees to the sides or top, light falls off by 50% and color shifts to red. Sharing is possible if two users sit close enough in a split-screen configuration. This is typical performance when compared to other VA displays.
Screen Uniformity
To learn how we measure screen uniformity, click here.
Though the 45GR75DC comes last in the screen uniformity test, it performs well considering its sheer width. I could see a slight hotspot at the center and in the lower left corner of a black field pattern. This was not visible in actual content. Brighter fields and colors showed no anomalies.
MORE: Best Gaming Monitors
MORE: How We Test PC Monitors
MORE: How to Buy a PC Monitor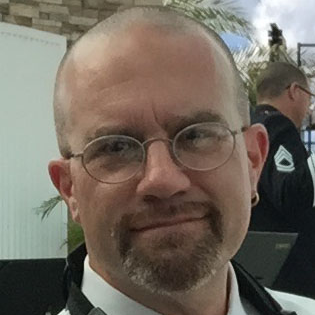 Christian Eberle is a Contributing Editor for Tom's Hardware US. He's a veteran reviewer of A/V equipment, specializing in monitors.