AMD's Radeon products are no strangers to the list of best graphics cards. However, the chipmaker has also been very vocal that modern graphics cards should have at least 16GB of memory to push the latest triple-A titles. Sasa Marinkovic, the senior director of gaming marketing at AMD, has highlighted in a new tweet that AMD's Radeon 16GB graphics cards start at $499, unlike Nvidia, where you don't get 16GB until the GeForce RTX 4080, which has a $1,199 MSRP.
Marinkovic's comparison is evidently based on the size of the memory subsystem and pricing. Rasterized and ray tracing performance isn't taken into account. There appear to be some discrepancies in pricing, though. For example, the AMD executive listed the Radeon RX 6800 with a $499 price tag, meaning that he's not using MSRP for comparison. The Navi 21-based graphics card debuted in 2020 for $579 but now sells for as low as $469. Meanwhile, he listed the competing GeForce RTX 3070 for $549, which is neither its MSRP ($499) nor the cheapest model ($485) on the market.
Obviously, not every Radeon graphics card sports a 16GB. However, the chipmaker uses the Radeon RX 6800 series as the starting point. The Radeon RX 6700 series, such as the Radeon RX 6700 XT, maxes out at 12GB. But AMD isn't wrong. The chipmaker's Radeon graphics cards generally offer more onboard memory at lower prices than competing Nvidia GeForce RTX SKUs. In this generation, mainstream consumers don't get access to 16GB from Nvidia cards unless they spend more than $1,000. AMD's latest Radeon RX 7900 XT and RX 7900 XTX offer 20GB and 24GB with a sub-$1,000 price tag.
It's funny that Marinkovic only compared AMD's Radeon products with Nvidia's GeForce offerings when a third player is on the market. If we don't consider performance and only base the comparison on pricing, the cheapest 16GB graphics card title belongs to Intel's Arc A770 16GB, which retails for $349.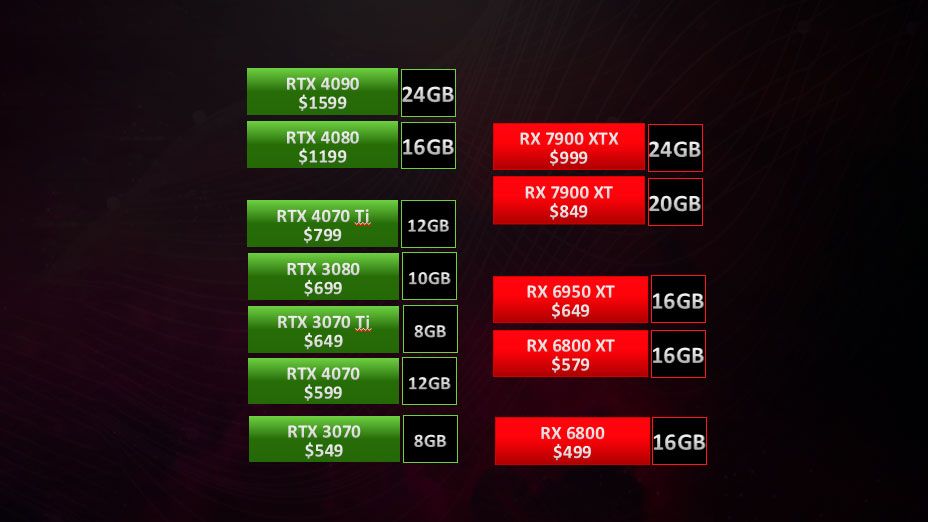 The thing about these kinds of bold statements is that you have to back it up, or it'll eventually come back and bite you in the ass. Remember the whole "Game Beyond 4GB" fiasco back in 2020? AMD emphasized how 4GB had become outdated and that future graphics cards should have 8GB as the minimum. A little over a year and a half later, the chipmaker launched the Radeon RX 6500 XT, which only had 4GB of memory. Whether you believe in coincidence or not, the blog post had gone missing during the Radeon RX 6500 XT launch, but AMD eventually republished it.
AMD still has a lot of price gaps to fill with its latest RDNA 3 lineup. The Radeon RX 7900 series has been out since November 2022, and consumers have been waiting eagerly for the Radeon RX 7800 or Radeon RX 7700 series. The former will likely have 16GB, but the latter's memory is probably smaller. AMD's Radeon RX x700-tier SKUs have never had more than 12GB, so the AMD better surprises consumers or the chipmaker's latest swagger won't age well.
Modern games are getting increasingly demanding, although some are bad ports or lack optimization, such as Star Wars Jedi: Survivor, which has proven to consume up to 21GB of VRAM. It's not an exaggeration to think that 16GB graphics cards will become the new norm eventually.