AMD's current flagship X570/X570S chipset brings with it full support for PCIe 4.0, including devices connected to both its CPU-integrated and chipset-based PCIe controllers, and the transfer rate between the CPU and chipset is likewise doubled. We've tested several X570 boards, including many models refreshed for AMD's Ryzen 5000 CPUs, as well as a few with the updated X570S chipset that does away with the fan. The price premium for X570 models is still a serious consideration, as its X470 predecessors do not support the PCIe 4.0 integrated into the new CPUs.
If you want to save some money, consider a B550 motherboard, which has PCIe 4.0 support, but generally only enough lanes for one fast SSD and graphics card. Note, though, that many higher-end B550 boards approach or exceed the price of X570 alternatives. So shop carefully based on the features you need or are likely to use in the future.
If you're not sure which chipset you're after or have more basic questions, you can visit our motherboard basics and motherboard buying guide stories to help narrow down your board buying options.
Best AMD Motherboards: X570(S), B550, TRX40, X570, X470, B450 and X399
The Asus ROG Crosshair VIII Extreme is the first AMD Extreme board since the X370 days, and it doesn't disappoint. In addition to its premium appearance, the board comes with one of the most capable VRMs we've seen. So its overclocking ability is only limited to your cooling capability and the limitations of your silicon. Other features are also top-notch, including the latest Realtek/Supreme FX audio codec, 10 GbE and Wi-Fi 6E.
The Thunderbolt 4 ports and front-panel USB 3.2 Gen2x2 Type-C ports give you plenty of fast connectivity as well. And if you need a lot of fast storage, you're well taken care of with up to five M.2 modules that can work simultaneously. If you've got $800 to spend on an X570 motherboard, the ROG Crosshair VIII Extreme should be at the top of your list.

Read: Asus ROG Crosshair VIII Extreme review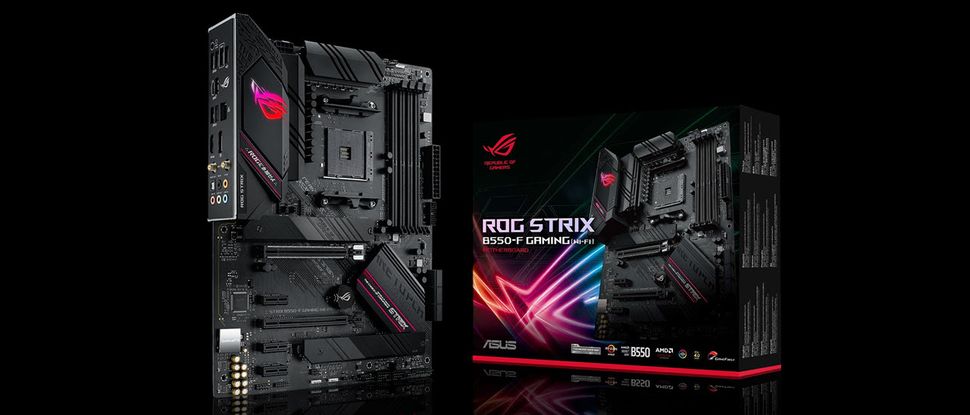 Asus' ROG Strix B550-F Gaming Wi-Fi delivers premium features including SupremeFX Audio, Intel Wi-Fi 6 AX200, solid power delivery and more. It's a good option around the $200 mark, though there are similarly specced boards that cost less. If you don't need Wi-Fi capability, the non-Wi-Fi version of the same board costs $30 less with the same specifications, making it easy to recommend if you plan on using Ethernet or have your own wireless card.
Read: Asus ROG Strix B550-F Gaming Wi-Fi Review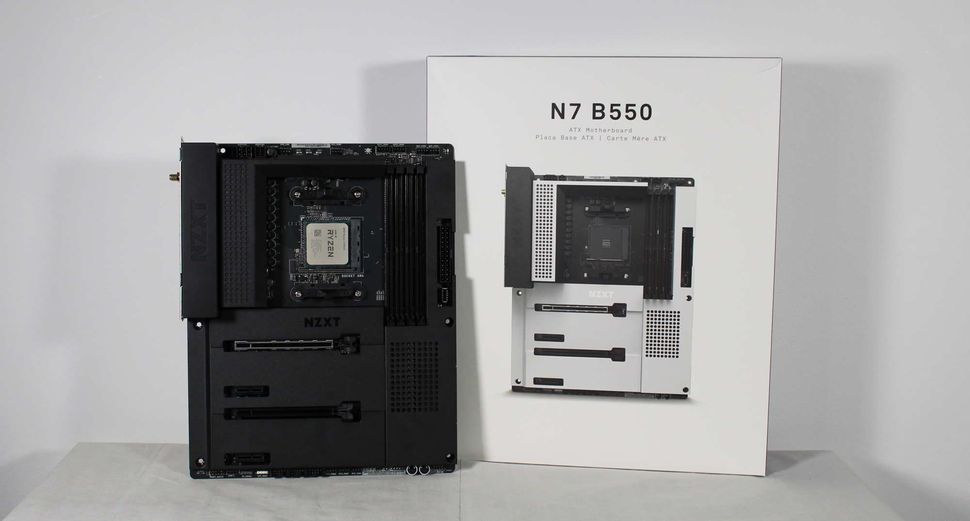 NZXT's first foray into AMD motherboards is a success. Coming in late to the game allowed the company to implement feedback from its Intel boards, adding more USB ports to the rear IO. The additional time also allowed NZXT to implement cutting-edge Wi-Fi 6E as well, alongside 2.5GbE. Outside of that, the appearance changed significantly from the company's previous boards, with shrouds dominating the surface and an absence of on-board RGBs.

With an MSRP of $229, the NZXT N7 B550 costs about $15 more than our primary pick, but delivers a newer Wi-Fi chip, more and faster USB ports, and solid performance in a package that's visually distinct from all other B550 competition. If you can spend this much and don't need the extra PCI 4.0 bandwidth that comes with similarly priced older X570 motherboards, the NZXT N7 B550 is well worth considering.

Read: NZXT N7 B550 review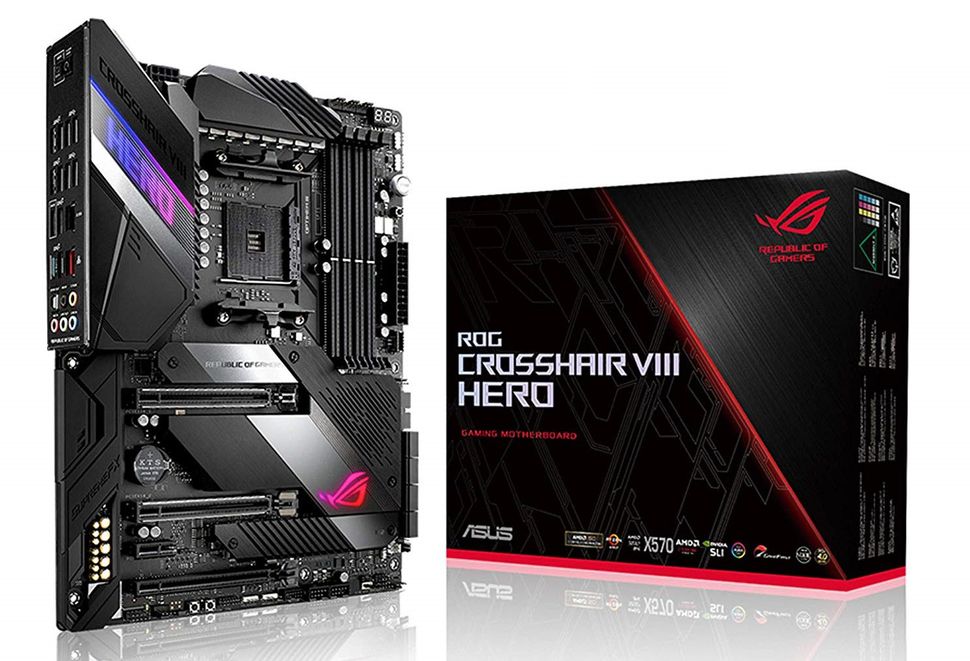 Packed with 12 USB ports (eight of which are USB 3.2 Gen 2 speeds), a 2.5G LAN port, eight SATA ports, and integrated Wi-Fi 6, he Asus ROG Crosshair VIII Hero Wi-Fi is a good base for a high-end build.
Read: Asus X570 ROG Crosshair VIII Hero Wi-Fi Review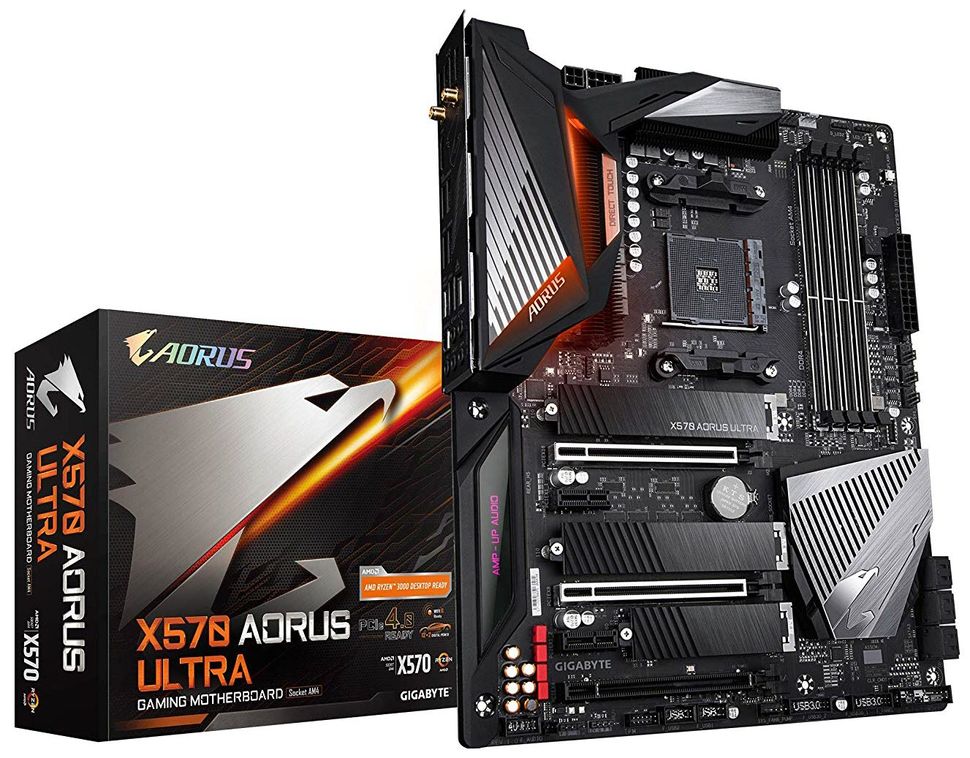 The Gigabyte X570 Aorus Ultra focuses on doing basic things very well, such as its twelve 40A core voltage MOSFETs and triple PCIe 4.0 x4 M.2 storage slots. With nothing more than a 2.4Gb/s Wi-Fi 6 module to add to its basic Gigabit Ethernet, the paucity of premium add-in features helps Gigabyte to maintain a sub $300 price despite the cost of PCIe 4.0 compliance.
Read: Gigabyte X570 Aorus Ultra Review
The MPG X570 Gaming Plus is unmistakably cheap, yet it's eight 46A core voltage regulators still provide enough CPU power to cover the full range of AMD's recent AM4 processors. Fixed PCIe pathways follow a simplified rout to eliminate the need for costly re-drivers, and the board has only one pathway switch that enables its second x1 slot by disabling the first. Its included software couldn't even monitor our hardware, and the firmware menu that's supposed to display connected devices disabled our keyboard and mouse, but buyers who are satisfied by mere adequacy should be pleased by its exceptionally low price.
Read: MSI MPG X570 Gaming Plus Review
Alternative Budget X570: ASRock X570 Steel Legend WiFi ax
The Gigabyte X570-I Aorus Pro WiFi performed well at stock and when overclocking. Dual M.2 slots on the ITX form factor is its claim to fame, and it also includes two USB3 Gen 2 ports (one Type-C, the other Type-A) and four USB3 Gen1 ports on the rear IO. This tiny board offers users a great assortment of features and is a well-rounded solution for its small form factor, and comes at moderate price that undercuts the competition.
Read: Gigabyte X570-I Aorus Pro Wi-Fi Review
Motherboard makers love to load up tiny boards with high-end chipsets, but those boards often lack the bonus features that would have made the flagship chipset worthwhile. The Fatal1ty B450 Gaming-ITX/ac takes the opposite approach, offering most of the features of AMD's lower-cost B450 chipset while retaining the overclockability associated with high-end motherboard models. That makes it a great option for Mini-ITX overclocking enthusiasts on a tight budget--or those who would just rather spend more on a better CPU or roomier, speedier storage.
Read: ASRock Fatal1ty B450 Gaming-ITX/ac Review
Sixteen 90A power phases under an enormous dual-fan heat sink prove that the TRX40 Taichi was built with 64-core CPU overclocking in mind, regardless of whether the forthcoming Threadripper 3990X even turns out to be overclockable. Additional features such as dual networking that includes 2.5GbE, a 20Gb/s USB3 2x2 header, 2.4Gb/s Wi-Fi, and an included four-drive M.2 expansion card push overall value up to its $500 price.
Read: ASRock TRX40 Taichi Review
Power users will want to pick up the Gigabyte X399 Aorus Xtreme because of its impressive ability to manage higher-wattage workloads and parts when combined with custom loops and ample radiator space. The voltage regulator cooler alone eliminates the need for a monoblock, and could tip the high-wattage value proposition back in Gigabyte's favor for a fully equipped motherboard.
If 10Gb Ethernet is not needed, we still recommend the Gigabyte X399 Aorus Gaming 7 for full-sized builds. And the ASRock X399M Taichi still opens the door for HEDT builders on the value front. Still, if overclocking high-end processors is your thing, it's hard to look past the heatsinks on the Aorus Xtreme.
Read: Asus ROG Zenith Extreme Alpha Review

MORE: How To Choose A Motherboard
MORE: All Motherboard Content