Best Closed-Loop Liquid CPU Coolers You Can Buy Today
Lian Li's Galahad II Trinity Performance raises the bar for AIO Cooling. Every component has been upgraded, resulting in absolute cooling domination. The cooler installation is simple and easy, and it's reasonably priced at only $169 USD. With results like this, I find it hard to recommend any other liquid cooler, making this the first CPU cooler I have ever awarded a 5-star rating. This is the best liquid cooler on the market right now, without question.
While cooling performance is absolutely amazing, thermals are only one part of the picture. How loudly the cooler runs is very important as well. In its default configuration, Lian Li's GA II Trinity Performance runs loudly at 55.2 dBA. I've only tested a handful of coolers that reach this level of noise.
Normally I would consider this a mark against the product, but Lian Li wisely included a built-in low-noise/high-performance toggle switch, allowing you to reduce maximum fan speeds and noise levels with the flip of a switch. Most coolers that support low-noise modes have reduced thermal performance when engaged. But I didn't observe any difference in thermals between the two modes when tested on my i7-13700K. When set to the low noise mode, total noise output is reduced to 49.2 dBA, which is on par with MSI's and DeepCool's competing 360mm AIOs.
Read: Lian Li Galahad II Performance Review
---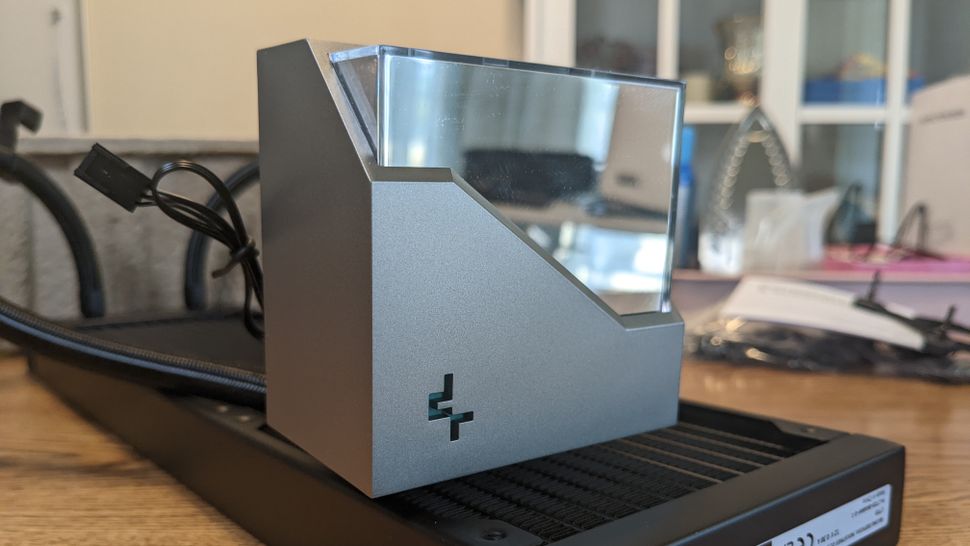 If you want to squeeze the best sustained performance possible out of your new Core i9-13900K CPU, DeepCool's LT720 AIO is the best we've tested yet using Intel's latest flagship CPU. The 360mm AIO managing to keep our CPU running at an impressive 315 Watts during our Cinebench tests.

It also has a unique infinity mirror CPU cover, and will stay out of the way of your RAM. The main downside? This cooler can get a bit loud when running at full speed. But if you bought a Core i9 and are running it full-bore with the power limits removed, a bit of extra fan noise probably isn't your biggest concern. The price of the LT720 is also quite nice, with multiple outlets selling it for around $130 and some as low as $120. If you need lots of cooling for your overclocked flagship CPU and you don't want to spend several hundred dollars on custom cooling, this is the best option we've tested with Raptor Lake.
Read: DeepCool LT720 AIO review
---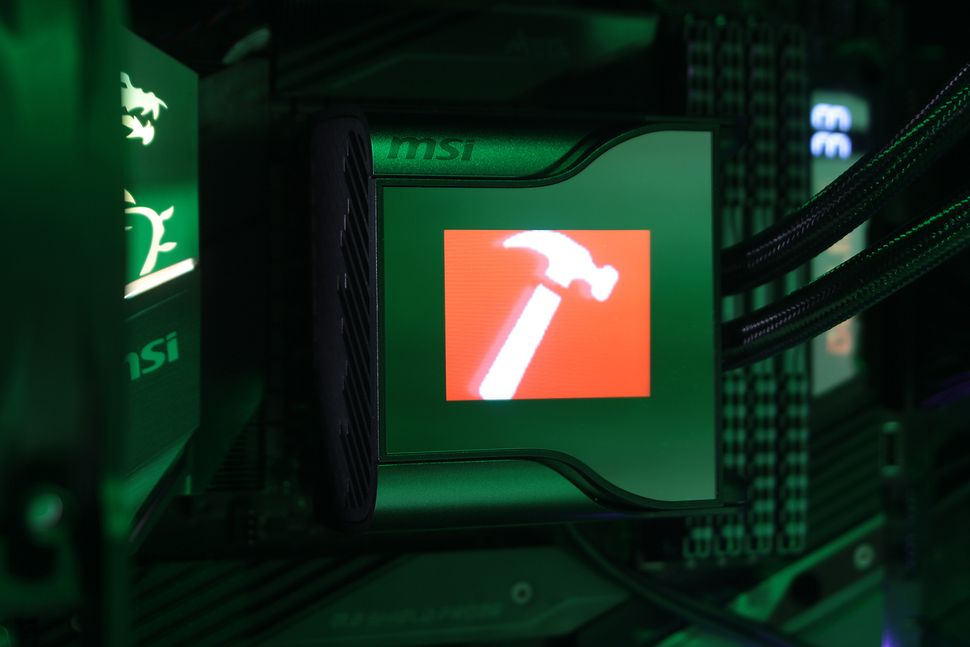 MSI's MEG CoreLiquid S360 delivers top-notch cooling performance, quiet(er) cooling fans and an excellent implementation of a simple-to-use MSI Center UI and a brilliant display above your CPU to deliver system performance stats, or even your favorite photo or animated GIF. At $280, it's definitely a premium cooler, but MSI backs up that price with some real performance clout.
For those without concern for the high price, looking for excellent cooling and endless customization options via the display, the MSI MEG CoreLiquid S36 is worthy of serious consideration. Its toughest competition may come from Corsair's H150i Elite, although we haven't had a chance to test that cooler yet.
Read: MSI MEG CoreLiquid S360 review
---
Corsair's iCUE H170i Elite LCD XT AIO offers the best cooling performance we've tested yet with Intel's i9-13900K, handling over 325W in our most intensive thermal tests. And unlike other coolers, the noise level of the H170i Elite is tied to the CPU coolant temp, resulting in quieter operation during most common tasks and the elimination of bursty fan behavior. The tradeoff is that we saw noisier operation under the kinds of sustained loads that we use for testing.
The Corsair iCUE H170i Elite LCD XT is one of the best coolers currently available in terms of performance and features. It's also quite expensive at $310, but if you don't mind going without the pretty 2.1-inch display, the company also sells an iCUE H170i Elite Capellix XT with the same radiator and pump for around $240.

That's still no small amount of money for a cooler. But if your needs are extreme enough to warrant a 420 mm radiator, you can probably afford to spend a bit extra on keeping your powerful CPU as cool as it can be under load.
Read: Corsair iCUE H170i Elite LCD XT review
---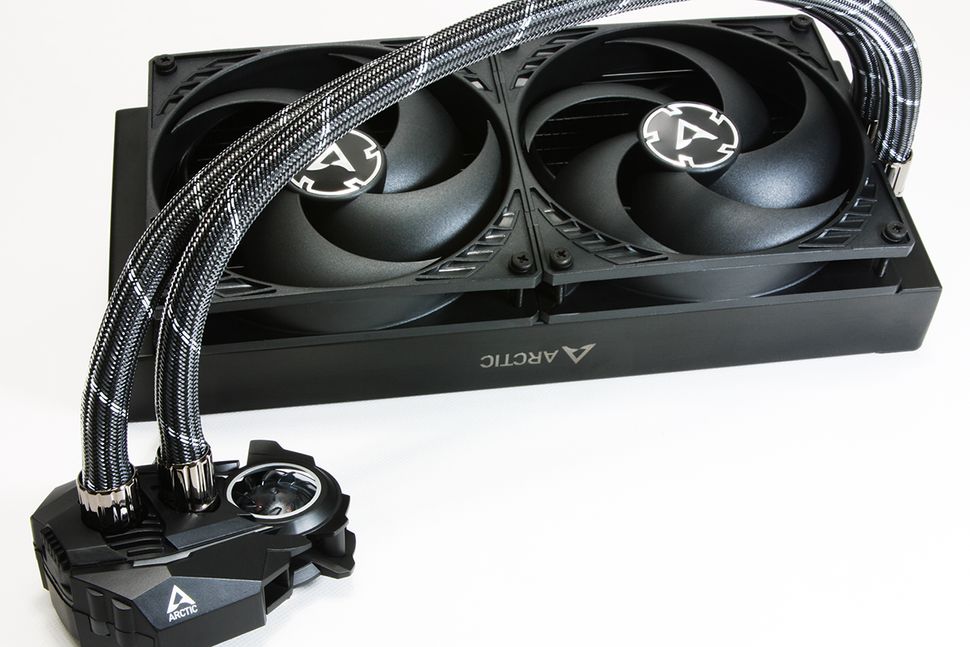 While our thermal measurements indicate that it's integrated voltage regulator fan is little more than a gimmick, great CPU temperatures at ultra-low noise levels prove the Liquid Freezer II 280 far-more-valuable than its far-costlier rivals.
Read: Arctic Liquid Freezer II 280 AIO review
---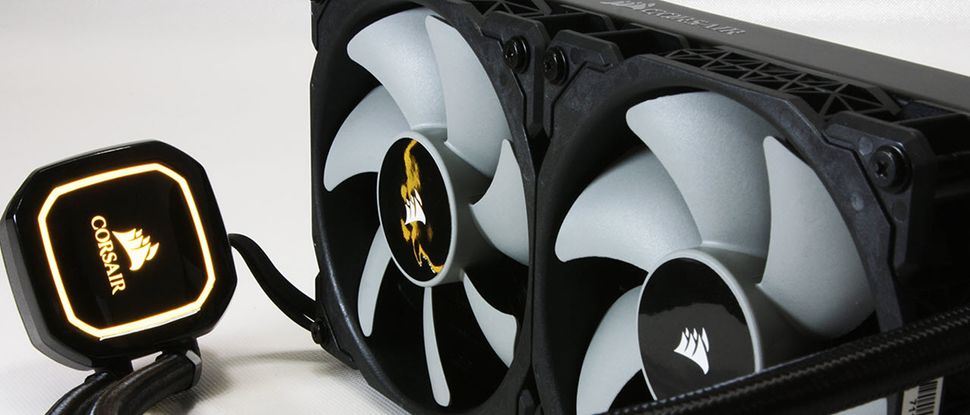 The Corsair H100i RGB PRO XT takes over where the H100i Pro left off by providing enthusiast levels of thermal load management from a 240mm AIO and making use of Corsair's iCUE software suite for RGB lighting control, fan curve configuration and pump performance settings. Paring the capability of the cooler with a set of user-friendly software tools provides a great deal of value for system builders of any technical proficiency, in real time.
Read: Corsair H100i RGB Pro XT review
Best 240mm Closed-Loop Liquid Cooler Alternate: Deepcool Gamer Storm Captain 240 Pro
The Gamer Storm Captain 240 Pro makes up for in low noise what it lacks in cooling power compared to Corsair's H100i Pro, to the point that the Captain 240 Pro has a significantly better cooling-to-noise ratio. We favor it for anyone who needs virtual silence at 50% fan speed, where most users in most environments won't hear it. Even those able to push a CPU hard enough to require 100% fan speed will find its hushed murmur less than half as noisy as the H100i Pro.
---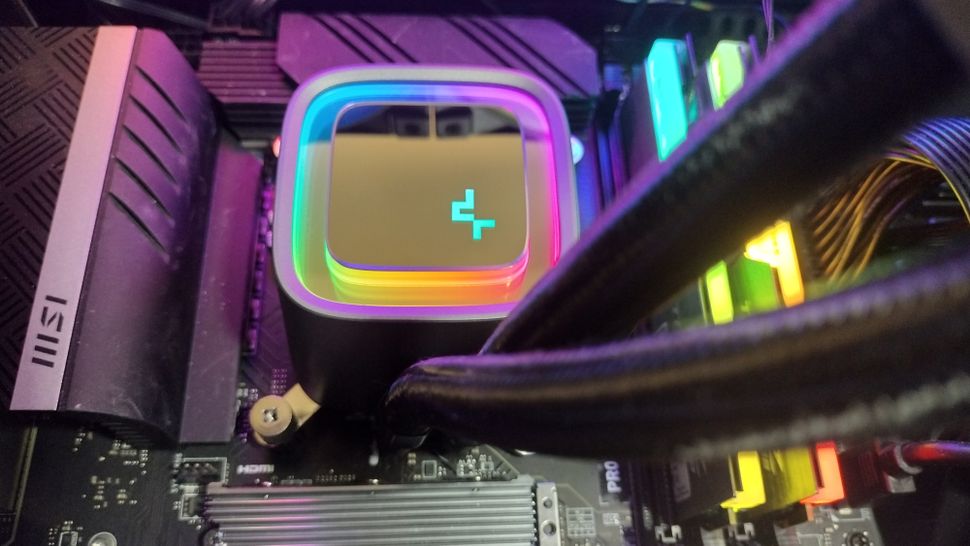 With Alder Lake's increased cooling demands, many coolers that performed well on older platforms literally take the extra heat. But in our testing with Intel's Core i9-12900K, DeepCool's LS520 delivered incredible cooling performance for its compact package. It handled our Alder Lake CPU without power limits in most situations. While it lacks software for its RGB lighting and fans, at just $109 its value is currently unbeatable.
Read: DeepCool LS520 review
---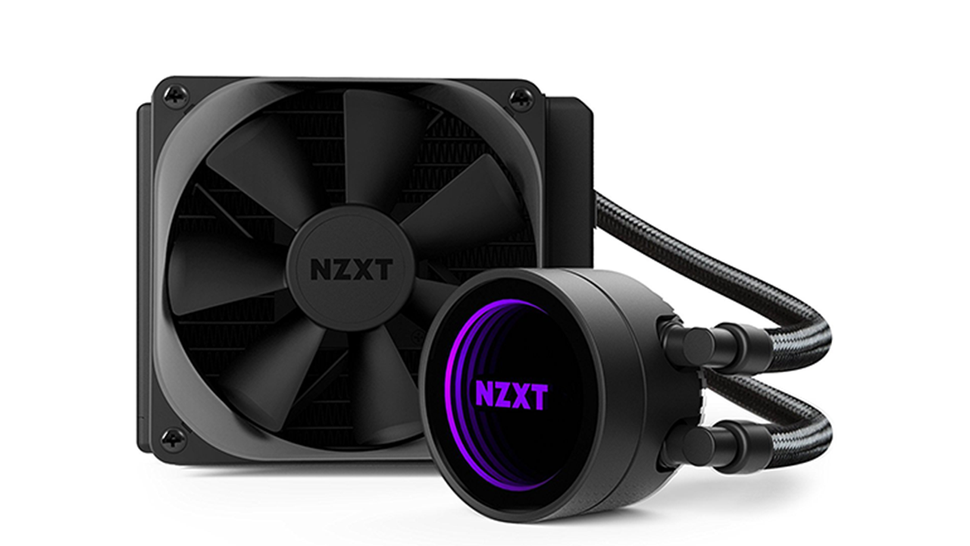 The NZXT Kraken M22 is an incredibly compact, high-performance liquid cooler that delivers sleek styling and vibrant RGB lighting options, while offering support for current AMD and Intel processor sockets. Specifically, if you're building a small home-theater PC or a compact gaming build, the Kraken M22 offers surprising cooling potential in a condensed cooling package.
Just don't try to strap one to your Threadripper system. The demanding thermals and massive surface of those high-end CPUs aren't supported by this cooler.
Read: NZXT Kraken M22 review
---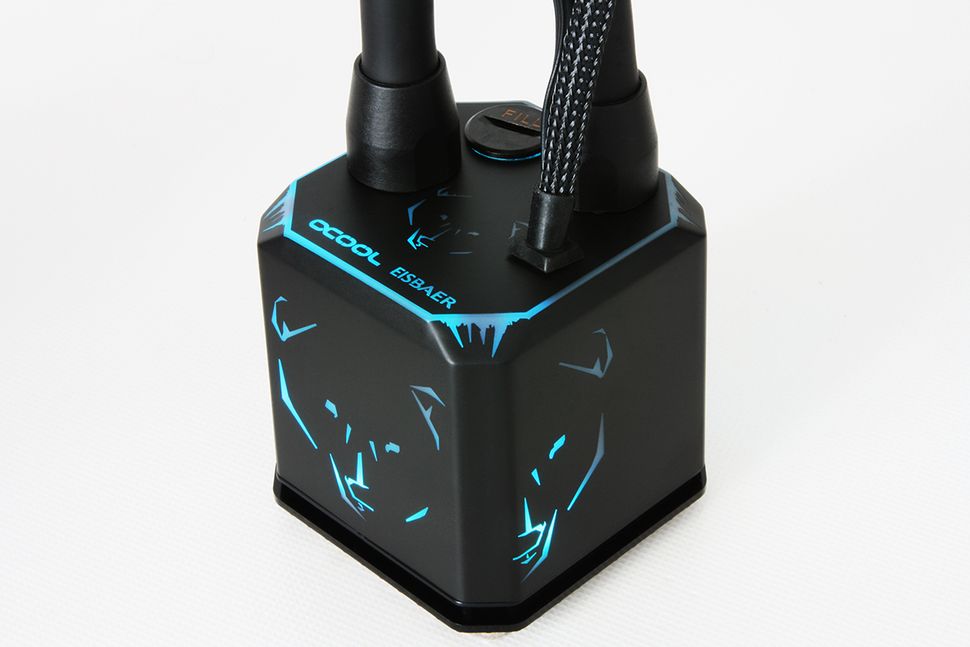 Alphacool's Eisbaer is a factory-filled hybrid design, featuring a closed-loop-style pump and CPU cold plate with open-loop style fittings that including an anti-leak, in-line quick connector. Alphacool offers wide range of factory-filled companion parts, from additional radiators to GPU blocks, to suite nearly any expansion need. It's perfect for buyers who lack the time to assemble, purge, and leak test their own scratch-built component systems, as well as those who have more cash than self-confidence.
Read: Alphacool Eisbaer Aurora 240 CPU Digital RGB review
---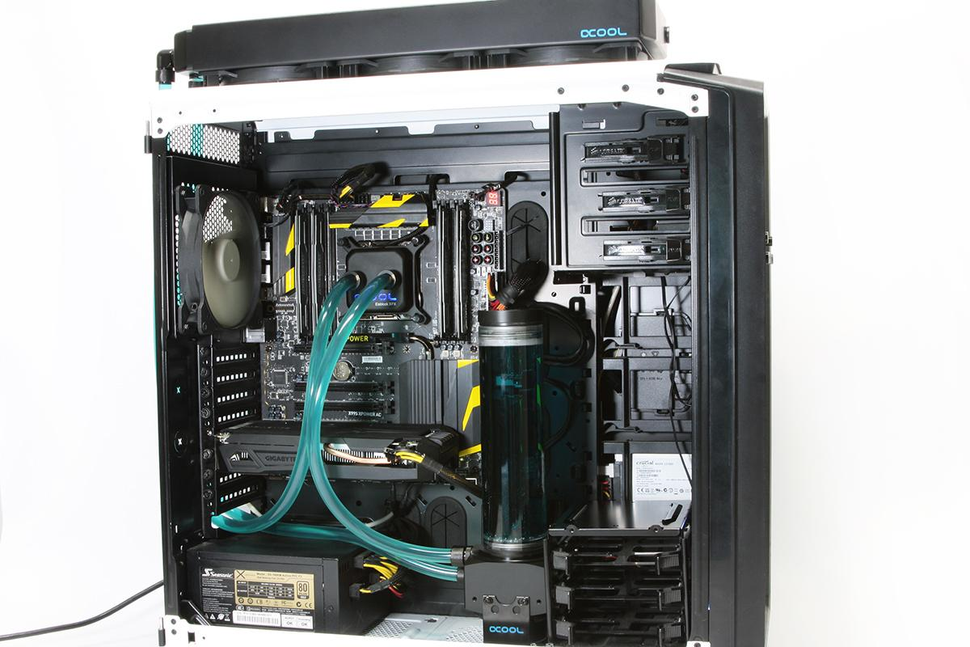 With an enormous 3x 140mm radiator, this kit allows for enough thermal expansion of the loop to include a graphics card waterblock (or even two), if desired. By using industry standard G1/4 threaded fittings for all components, the cooling loop almost begs you to add more components to the party. A radiator of this size and potential allows for this kind of load because of the quality design and engineering that went into building it. A pump of this pedigree pushes coolant like few others are capable. Quality-milled components and attention to detail are seen on each and every piece within the kit.
For anyone looking for a complete, high-quality watercooling kit in a single box, this Alphacool Eissturm Hurricane Copper 45 kit is an excellent choice for those with room in their chassis for the monstrous 3x 140mm radiator and large pump/reservoir combo.
Read: Alphacool Eissturm Hurricane Copper 45 Review
MORE: Best Air CPU Cooling
MORE: How To Choose A CPU Cooler